1. The beginnings of LANCIA.
LANCIA was founded in 1906 by Vincenzo Lancia. Lancia was born on 24 August, 1881 in Fobello, Italy. At the age of 17, he began training with bicycle importer Giovanni Ceirano. Lancia was a skilled and enthusiastic novice technician. In 1899 Ceirano produced his first motor car constructed by Aristide Faccioli. In the same year Ceirano and a consortium of business people from Turin founded the Fabbrica Italiana Automobili Torino (FIAT). In 1905, Ceirano left the consortium to found a new company. Lancia was appointed test driver and chief inspector at the age of 19. The professionalism with which Lancia did his job led the company to allow him to compete in races as a test driver. Lancia was grateful for the opportunity given him by the company and had many racing successes. He was one of the best racing drivers in the world. Owing to performance limitations, Lancia often lost races due to technical problems and failed to win important international races. On November 29th 1906, Lancia together with the former Fiat test driver, Claudio Fogolin, founded his own company called LANCIA & C. FABBRICA AUTOMOBILI. Vincenzo Lancia continued driving for Fiat until 1910.

top
.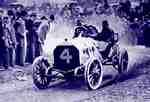 V.Lancia in year 1906

.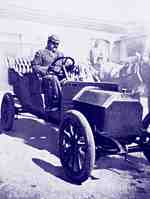 The first Lancia, 1907.

.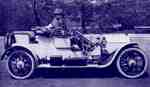 The first series, the 12HP.